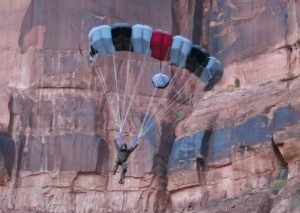 The Tarpus was designed from the ground-up as a fixed-object 7-cell canopy to be used with or without slider featuring very fast openings, solid pressurization, a large operational airspeed, and a very powerful flare.
The Tarpus is built from F-111 fabric with a 33% z-po top skin, bottom skin fins at load ribs, over-sized and loaded stabilizers, tail-pocket, tail-gate*, fine mesh slider, and heavily reinforced construction with an aspect ratio of 2.25:1 and medium-slow speed turbulent flow airfoil.
Sizes: XS (199), S (218), M (240), L (260), XL (280), XXL(300)
Recommended wing-loading 0.7:1
Line type:  Dacron 525 and 400 lbs continuous, HMA 900 lbs upper brake, Dacron 900 lbs lower brake.

Price: $2,200
Currently out of stock
* The tail-gate was originally developed by Basic Research of Perris, CA as a solution to line-over malfunctions in the absence of a slider.