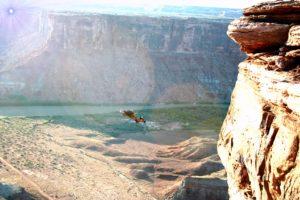 Nitro Rigging designs and manufactures single canopy harness/container systems using BASE jumping as its main testing environment.
We have designed and tested from ground-zero the Tarpus BASE canopy and Limbus harness/single container system in order to provide a solid platform to increase the safety of an inherently dangerous activity.  Single canopy systems have been proven safer than dual systems due to a reduction in complexity.
The single canopy system can be configured for airspeeds ranging from 0 to 120 mph allowing the jumper to leap from altitudes as little as few hundreds feet.
Upon request, additional rings can be anchored to the Limbus harness for the mounting of secondary parachute containers, cargo, or passengers making the Limbus a very versatile parachuting system.

Nitro Rigging also offers hands-on training on the configuration and use of its BASE jumping canopies and containers.