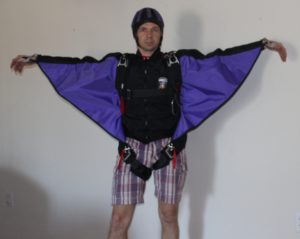 Nitro Rigging camera jacket is both powerful and durable.  Built from packcloth 420 and Spandura (cordura and lycra), this jacket features large wings with a forward attachment point equipped with adjustable quality stainless steel shackles that connect to the rig's leg strap friction adaptors.
The camera jacket is built standard with an internal pocket, hook-knife pouch, and arm sleeve zippers, just like our RW suit, so that the camera flyer can raise his hands after deployment either via releasing the shackles or by unzipping the sleeves.
This jacket can be flown both in a belly-to-earth position or in a 'lazy-sit' at the discretion of the jumper's style.  Nitro Rigging camera jacket is a must for professional RW, big-ways, and tandem video aerial photographers.
Recommended Minimum Experience:  200 skydives.
Price: $350

Delivery time:  4-6 weeks