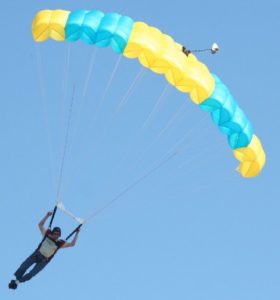 The G-1 is a 9-cell main canopy with an aspect ratio of 2.65:1 constructed with z-po fabric featuring a high-lift turbulent flow airfoil.
The G-1 is suited for students or skydivers desiring an easy and docile canopy with soft openings, a flat glide, and a powerful flare.
The G-1 also makes for a great candidate for HAHO and HALO military operations as well as smoke jumpers.
Sizes: S (175), M (225), L (255)
Recommended wing-loading:  0.7-1.5:1
Line type:  HMA 350 continuous or Dacron 400 continuous

Price: $2,300
Currently out of stock