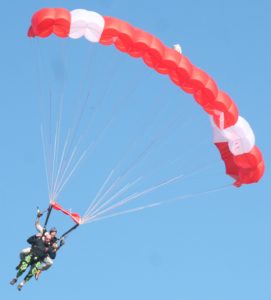 The Goldfish is a skydiving tandem 9-cell main canopy with an aspect ratio of 2.65:1, high-lift turbulent flow airfoil, heavily reinforced construction using quality z-po fabric, and collapsible slider.
The Goldfish features soft openings, light toggle pressure, and a powerful flare.  Available in two sizes, 325 and 365, lined with HMA 900 lbs continuous.
Recommended Minimum Experience:  1,000 skydives.
Price: $3,700
Currently out of stock