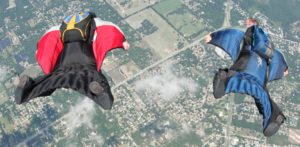 Nitro Rigging designs and manufactures high quality wingsuits since 2004 with the introduction of the original 'Rigor Mortis'.

Today, we offer three lines of wingsuits plus our integrated wingsuit/harness/container system.  Each of our lines of wingsuits comes in different sizes in order to accommodate for proper wing-loading and flying style:
Nitro Rigging wingsuits come fully-loaded and they are heavy-duty constructed from domestic packcloth nylon 420 (parapack), 1050 domestic ballistic nylon, and domestic spandura (50% cordura nylon and 50% lycra).
Wingsuits standard features:
Vibram® high-traction soles (Made in Italy).

Secondary arm release system (cutaway) fully integrated with the principal ram-air intake and spare handles anchored inside the arm wings.


Ram-air turbulent flow wings with air-locked back-flying intakes.

Pressurized mega booties.

Heaviest-duty YKK® zippers #10 (Made in Japan).


Over-the-shoulder easy hook-up system.

Dual running sliders on the body zippers (for easy donning).

Quality closed cell foam as leading edge inserts.

Internal short sleeves.


Internal pocket.

Hook-knife pouch.

Large Nitro Rigging logo embroidered on back deflector.

Nitro Rigging patch on front.

USA # 1

patch, upon request.


Optional

pilot chute pouch and bridle shrivel flap.


Optional

GoPro® chest-mount zipper (it will delete the stock pocket).
If your idea of fun is to fly off a cliff or a flying object, Nitro Rigging will provide you with a custom suit built to last the harshest of the environments for years of enjoyment.
Nitro Rigging also offers first-time wingsuit courses free of charge with the purchase of one of our wingsuits.  We normally hold courses at Skydive DeLand in Florida.
Wingsuit price range: $1800-3000

Delivery time:  4-6 weeks